We all have to start somewhere, and for us at Oil Vaporizer, we chose to start with
Utopia Planitia Technologies
. UP Tech has lead the way in manufacturing top quality oil vaporizers and cartridges since 2008, and while our company mission is to bring oil vaporizing equipment to the masses at great prices we only want to do it with the best quality products! UP Tech is known for their careful attention to detail, and use of only the best quality materials for the most flavorful and and purest vapor possible. We're proud to carry a wide variety of hash oil vaporizers and oil vaporizer cartridges to meet every user's needs!
Let's start where it matters with the business end of our oil vaporizers: the coil. Inside of our carts and coils you'll find a variety of materials, all selected with the utmost care, as well as a requirement that absolutely each piece serve a purpose. You'll never find a gimmick on an Oil vaporizer- just the best vaping materials possible, our
Alpha Globe system
and
Oil Cartridges
are Prime examples of our commitment to only the best performing vaping equipment.
Our
Grade 2 Titanium Prime Oil Cartridge
is the flagship of our
Omega series vaporizers
and we've got it available in fitments for nearly any eGo battery or box mod on the market. It has a 0.6 ohm load so if your vaporizer can fire sub ohm and has 510 or eGo threading, our carts should work for you!
Once you pull off it's O-ringed mouthpiece and move past its giant chamber you'll see something a little different: we've used porous black ceramic wicks wrapped with a thick Grade 2 titanium wire. These porous black ceramic wicks are the best performing we've found for essential oils. Unlike fiberglass or silica wicks, ceramic is inert and doesn't degrade. It can't burn if you apply power without any oils loaded, these cartridges don't produce any mystery smoke! And unlike white ceramic wicks or quartz, our porous wicks soak up oils like a sponge, instead of just letting it stick to the outside surface it actually goes
inside
where it can be heated from all sides for much better performance than just heating the oils sitting on top.
These cartridges are available in a
single wick
and
dual wickversion
. Each wick is wrapped at least ten times with pure Grade 2 titanium wire, completely encapsulating the majority of the wick. This means that when you apply power, the entire oil-soaked wick is evenly heated by the Titanium wire for the most even application of heat possible with a wire wrapped wick.
We're using the exact same coils inside our
Alpha Globes
- their
single
and
double wick coils
have the same durable, pure Grade 2 Titanium coils and ceramic wicks as the Prime Oil Cartridges. Unconstrained by cartridge container size, we even use different size cups for the Alpha Globe to optimize cup space and wick area; smaller for the single wick and larger for the dual wicks.
Now that you've seen the business end of why these wicks and wire perform as well as they do, let's pull back the curtain and go just a little deeper. Here's what's underneath that ceramic cup transmitting power to the titanium heating wire.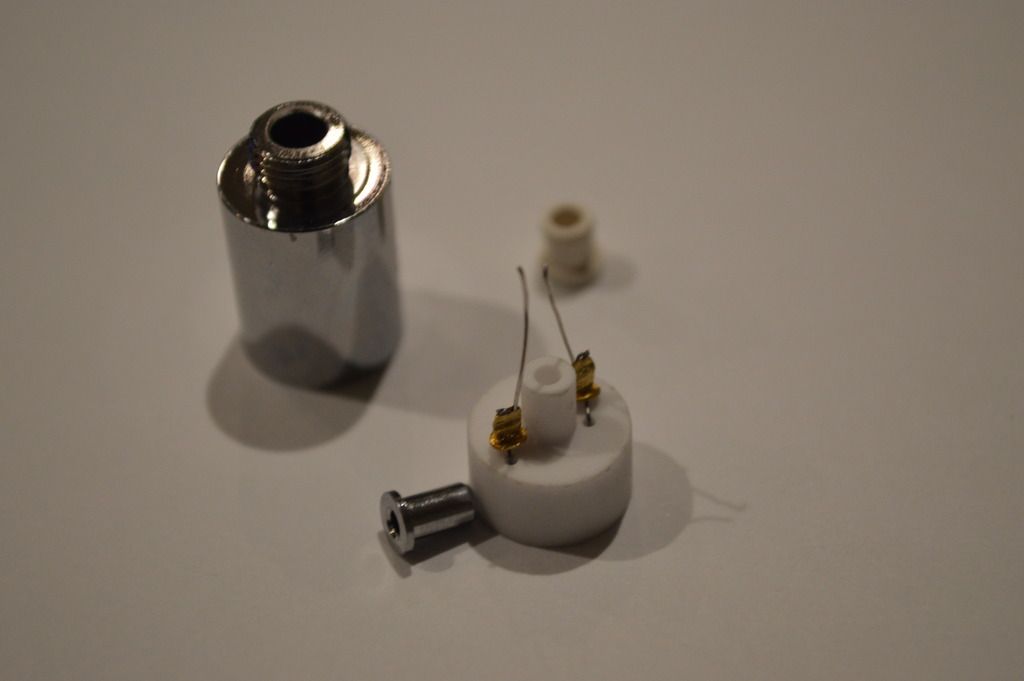 Notice the tiny gold crimps: pure Grade 2 Titanium heating wire requires these crimps to be used. They join the Grade 2 Titanium heating wire to non-resistance leads and are a hallmark of a pure Titanium wire heating element. Not all cartridges are created equal, and you won't find these crimps, or for that matter any Grade 2 Titanium in most other oil coils on the market, as Grade 5 and other alloys can be spot-welded to non-resistance wire. This saves money to the cartridge manufacturer, but means that you're heating aluminum and vanadium along with your oils with every hit.
Some of the other things that become noticeable inside our cartridges and coils are actually things you won't see until you try to disassemble a competitor's cartridge because we've left them out. While many other e-cigarette based "oil carts" feature solder, glue, nickel mesh, and plastics to hold the carts and coils together, we don't believe any of these materials are suitable for use inside an oilc cartridge and keep ours simple for the healthiest, tastiest vapor possible!

Thanks for taking a look at what's inside our coils. We hope you'll have the chance to experience what an oil vaporizer truly should be, and look forward to providing the best quality products at prices you'll love.